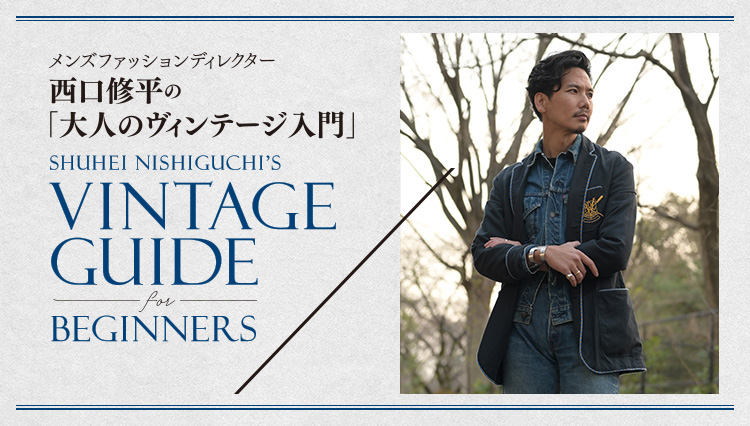 Nishiguchi's "Vintage Guide for Beginners" #2 Now is the time to re-evaluate! The "Polo Ralph Lauren" coat, a hidden gem from the 90's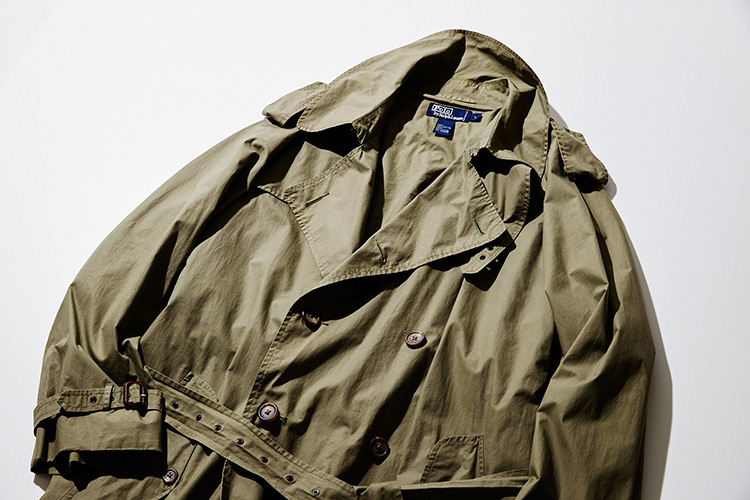 If one were to talk about the vintage boom since 1990, what comes to mind are the droves of dandies who adorn the latest media outlets with a distinctive style expressed by their mix of classic clothing.
I expect that even among adults, there are very few whose interests are piqued by a rising passion for vintage. On the other hand, however, there is the world of various vintage know-how necessary to look good and make a good selection. There are lots of times when people don't know exactly where to start and then get cold feet, altogether. Because of that, Shuhei Nishiguchi, who possesses a deep knowledge of old but gold vintage clothing, is introducing his "Vintage Guide for Beginners". Lets let him give us a further explanation of how to style those famous vintage pieces you'd love to own.
Nishiguchi's masterpiece vintage #2
"The Polo Ralph Lauren Spring Coat"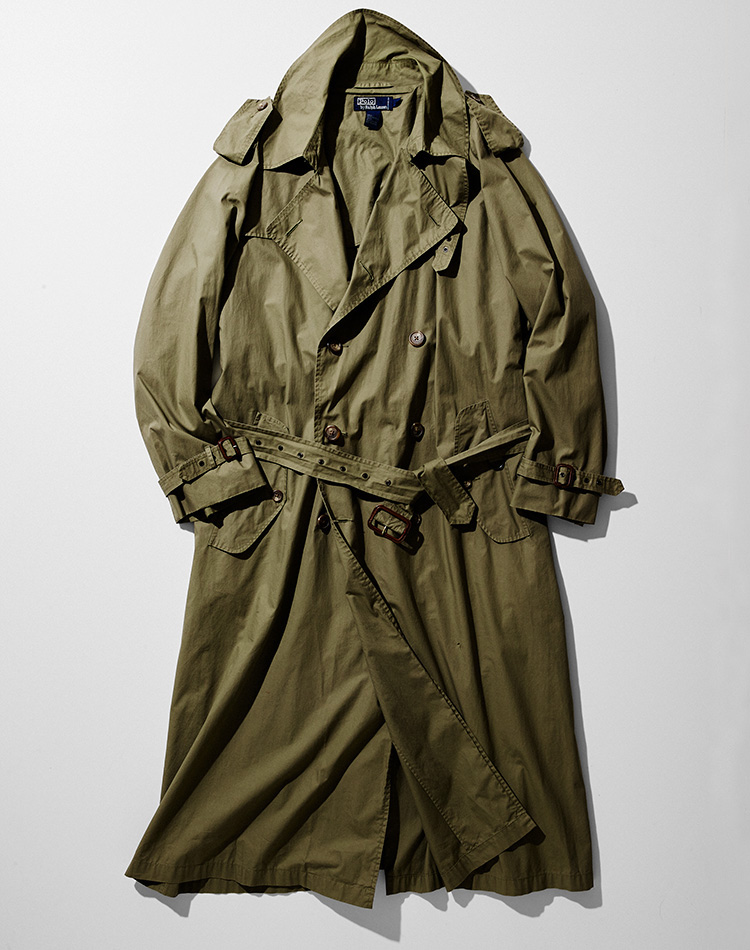 A trench coat made in the 1990's of ultra thin cotton fabric. As outlined in the column below, this is a piece that really makes you feel that uniquely Ralph Lauren level of refinement, while keeping its origins in heavy-duty military design. Incidentally, this piece is made in Hong Kong, although examples made in Singapore and the U.S.A. also exist. The going market price for one of these is anywhere from 100 – 300 dollars (10,000 – 30,000 JPY), and there are more women's than men's examples in circulation. Since it is quite generous-fitting when compared to the standard trench-coat of today, there are people who hunt down the women's size examples for a slimmer fit.
NISHIGUCHI EXPLAINS! Here Are The Highlights: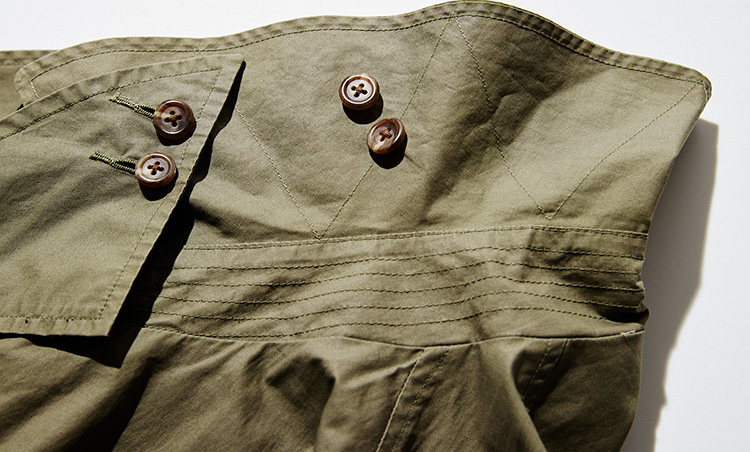 The Back Collar Reinforcement Stitching
"On the collar band there are parallel stitches running along the horizontal, and on the verso side of the collar leaf there's a zig-zag stitch applied. Both of these details are intended to strengthen the collar, and are characteristic specifications of the trench coat which was originally borne of military wear. This garment's charm lies in its serious construction, down to the finest detail."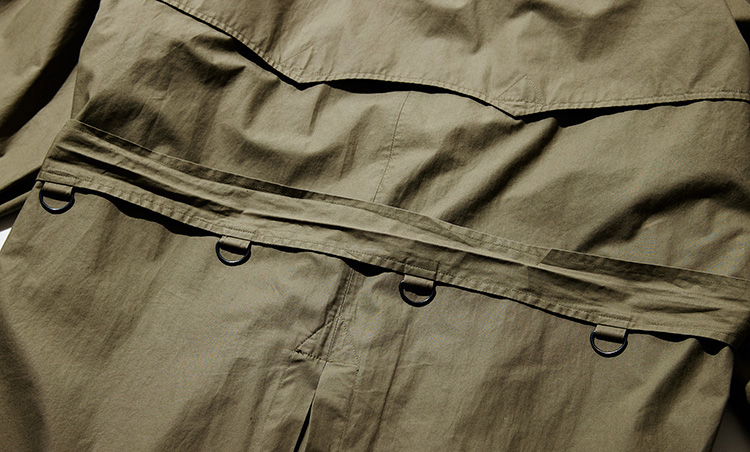 The Belt's D Loops
"A few D hooks are furnished around the waist belt. These were originally meant for hanging things like hand grenades, and are a detail that impart a decisively casual feeling. The buckle hardware is neatly wrapped in leather, speaking to its excellent construction."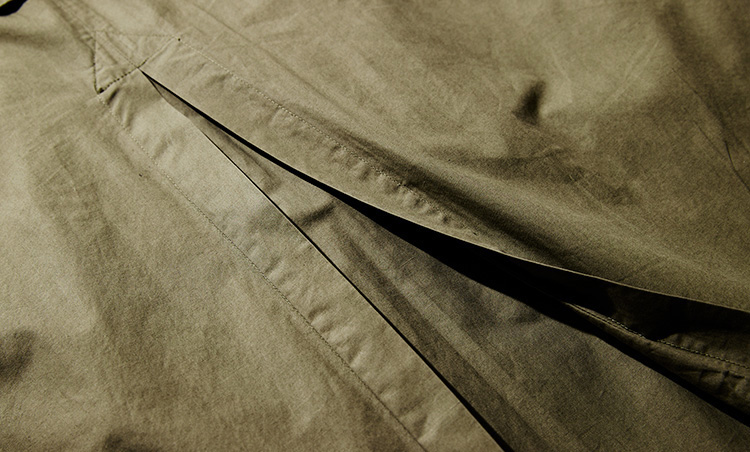 Inverted Pleats
"There are deep pleats in the back. The hidden detail of the inward-facing inverted pleats, despite giving the garment ample allowance, is special in that it keep the garment looking clean and sharp. When you walk, they open up according to the way you move, giving a nuanced sense of presence to the wearer."