"20 Pitti Picks" from Pitti Uomo 97
MEN'S EX誌上やイベントでも長年お馴染みのお洒落モデル、Mr.Davidが、自身のスタイルの成り立ちとポイントを語る「Mr. David's Diary」。デビッド自らのスタイル哲学、「Keep it Simple,sir」(シンプルに徹しましょう)略して「KISS」の真髄を掘り起こしていきます。今回は、2020年1月にイタリア・フィレンツェにて開催された、ピッティ・ウォモ第97回の展示会場と、その周辺のオーダー会、一部ミラノコレクション期間の展示会にて気になったアイテム20選をピックアップ!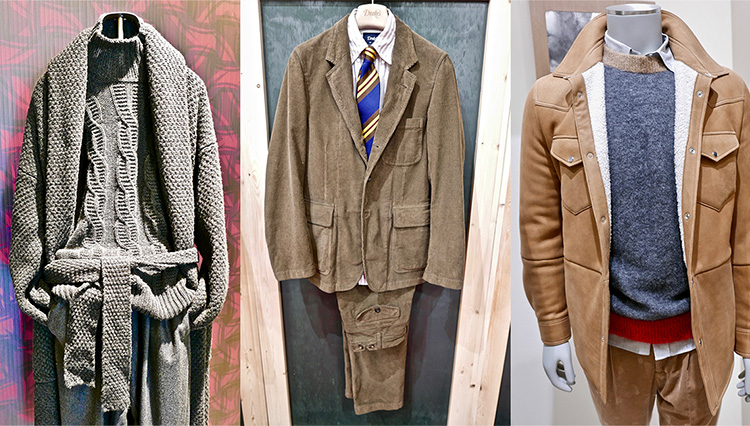 From January 7th to the 10th, Pitti Immagine Uomo brought together the most important and influential players in the menswear world to Florence, Italy. The theme of the winter fair was "flags". Flags being fabrics in constant motion, they are not unlike the clothing we wear – mobile symbols of identity, belonging, thought and feeling. Pitti 97 retained its respect for tradition but with an eye toward the future. Revealing next season's trends while offering input about the challenges and strategies of global fashion retail.
1月7日から10日まで、ピッティ・ウオモが、イタリア、フィレンツェにて開催され、メンズウェア業界の重要人物やインフルエンサーが世界中から集まりました。今回冬展のテーマは、「旗」でした。絶え間なく揺れる布としての旗は、我々が着る服と似て、アイデンティティ、帰属、考え、感情の象徴です。第97回ピッティは、伝統への敬意を表しながらも、将来を見据え、次シーズンのトレンドとともに、世界のファッション小売業界の課題と戦略についてもインプットしてくれました。
The trends for eco friendly sustainability and the continuing relaxation of classic menswear styles was evident throughout the fair. Fabrics made of recycled and biodegradable materials in unstructured and relaxed silhouettes were everywhere. With these trends in mind, I created the following list of my Pitti picks.
今回のピッティでは、全体的に、エコフレンドリーなサステイナビリティのトレンドと、しばらく続いているクラシックメンズウェアのリラックス化のトレンドが見られ、リサイクルされた生分解性の素材からできた生地が、アンコンストラクテッドのリラックスしたシルエットの服に使われている例が、あちらこちらで見られました。これらのトレンドを意識して、以下、私のピッティピックスをリストアップしてみました。