Mr.Davidが英語で綴るファッション連載「Mr.David's Diary」、今回はアメリカの靴メーカー「ラッセルモカシン」の工場訪問記! 
MEN'S EX誌上やイベントでも長年お馴染みのお洒落モデル、Mr.Davidが、自身のスタイルの成り立ちとポイントを語る「Mr. David's Diary」。デビッド自らのスタイル哲学、「Keep it Simple,sir」(シンプルに徹しましょう)略して「KISS」の真髄を掘り起こしていきます。今回は、2019年秋にデビッド自らが取材した、アメリカの靴メーカー「ラッセルモカシン」の工場訪問記をご紹介。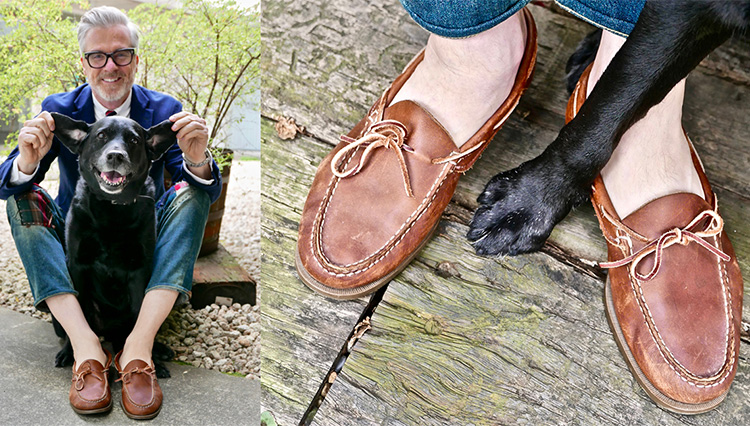 The Athenian statesman and orator, Pericles, once said, "And sorrow flows not from the absence of those good things we have never yet experienced, but from the loss of those to which we have been accustomed." So when my dad sold our happy hunting grounds on the banks of the Pine River on the southwest shore of Lake Poygan in central Wisconsin, I stopped coming to this area, as the memories of those adventurous days were always too fresh.
真の政治家で雄弁家のペリクレスはかつて、「悲しみは我々がまだ経験したことのない良きことの不在から生まれるのではなく、我々が知っている良きことの喪失から生まれるのだ」と言いました。私の父が、私達の楽しい思い出が詰まった、ウィスコンシン中心部のパインリバー沿いとポイガン湖の南西の湖岸のハンティング場を売り払った時、あの冒険の日々の記憶が鮮明すぎて、私はこの地域に来るのをやめました。
Time passed and my heartstrings pulled me back recently to Berlin, Wisconsin to revisit the area where I had so many fond memories of growing up and to write a story about Russell Moccasins, started in 1898 and dedicated to providing hunters and outdoors men and women with the finest handmade, custom fitted moccasin style boots available anywhere.
時が流れ、私はどこか心の深いところで呼び戻されて、最近、ウィスコンシンのベルリンを再び訪れました。子供の頃の良い思い出がたくさん詰まったその場所をまた訪れたかったのと、1898年に創業し、ハンターやアウトドア好きの人達に向けて、上質なハンドメイドの、カスタムオーダーのモカシンスタイルのブーツを作り続けているラッセルモカシンについて書きたかったからです。
I've borrowed my sister's red Jeep with the Bucky Badger plates for the ride up from Milwaukee. I'm armed with my digital recorder, camera and three CDs–my late father's favorite, Hot August Night by Neil Diamond, Bruce Springsteen's The River, to evoke memories of my old hunting partner Dan, whom we lost to cancer in 2014, and the somewhat obscure, but aptly named, Journey Through the Past by Neil Young.
私は、ミルウォーキーからの上り坂に備えて、バッキーバジャー(ウィスコンシン大学マディソン校のマスコット)のライセンスプレートがついた姉の赤いジープを借りました。デジタルレコーダー、カメラ、CD3枚(父のお気に入りのニール・ダイアモンドの"Hot August Night"、私の昔のハンティング仲間であり、2014年に癌で他界したダンとの思い出のブルース・スプリングスティーンの"The River"、そして曖昧ながらもふさわしいタイトルがついたニール・ヤングの"Journey Through the Past<過去の旅路>")を装備していました。
It's a grey November morning when I set out with Mr. Young singing mournfully, "will your restless heart come back to mine…" I don't remember November being this cold in Wisconsin, but I guess that my blood has thinned out over the years. It's the rutting season so the number of deer lying dead on the side of the road is heartbreaking. Somewhere between Milwaukee and Fond du Lac I lose the signal to my maps app. Sudden panic quickly gives way to relief as I realize, with no small amount of hope, that I may be off the grid. Happily I turn off my phone and revel in the tranquility some of us used to know before technology became so ubiquitous in our lives. I figure I'll find my way to Berlin the old-fashioned way–I'll wing it.
曇った11月の朝、ニール・ヤングが「君のせわしない心は僕の元へ戻ってくるのか?」と悲しげに歌う中、出発しました。私の中で、ウィスコンシンの11月がこんなに寒かった記憶はありませんが、きっと何年もの間に、私の血管が細くなったのでしょう。ちょうど発情期で、たくさんの鹿が道路の脇に死に倒れている光景を見て、胸が痛くなりました。ミルウォーキーとフォン・デュ・ラクの間のどこかで、私のマップのアプリのGPSがきかなくなりました。突然パニックに陥ったものの、すぐに、ただ電波の届かないところへ入ってしまっただけかもしれないと諦めました。私は潔く携帯の電源を切ると、今のように生活がテクノロジーで溢れる以前にかつて存在していた静穏を、大いに楽しみました。そして、昔ながらのやり方で、マディソンまで辿り着くことができるだろうと、車を走らせました。
Soon enough I see the sign for Berlin and start heading west on State 91. I'm getting close, so I figure it's a good time to pop in The River, "is a dream a lie that don't come true or is it something worse…" State 91 gives way to East Huron Street and I slow down to admire the quaint wooden sign, "Welcome to Berlin." I made good time, but I must have blinked twice because thirty minutes later I'm right back in front of that sign, having not found Berlin. I know it's small, but it can't be that small. I'm reduced to what no self- respecting man should have to do–I stop to ask directions. As I step out of the car the fragrant air is intoxicating and I hear that old familiar sound of Canadian geese calling to each other as they work together in their flying V formations. Noble creatures, they mate for life. I'd like to sit down with a couple of them over an IPA and ask them what their secret is.
すぐにマディソンに向かうサインを見つけ、ステートルート91を西に向かい始めました。目的地に近づいてきたので、"The River"をかけました。「夢は叶わぬ嘘なのか、それとももっと悪いものなのか。」ステート91はイーストフロンストリートに変わり、私はスピードを落として、「ベルリンへようこそ」と書かれた趣のある木のサインを眺めました。それからしばらく走りましたが、30分後、ベルリンに入らないまま、また同じサインの前に戻ってきてしまったので、目を疑いました。小さい町なのは知っていますが、そこまで小さいわけではありません。私は仕方なく、自尊心のある男がすべきではないことをしました。車を止めて、道を聞いたのです。車を降りた時、空気の芳しい香りがして、V字に群れて飛ぶカナダグースがお互いを呼んでいる懐かしい鳴き声が耳に入ってきました。一生を共にする気高い生き物達。そんな彼らとIPAでも飲みながら、その秘訣を聞いてみたいものです。